Reading Time:
2
minutes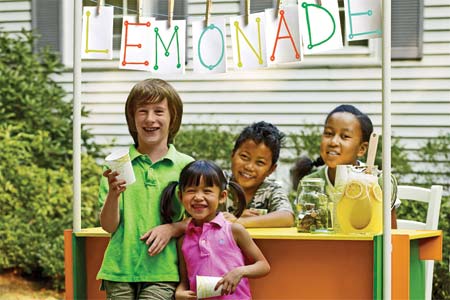 Summer has always been a season of fun for children.  School may be out, but kids will keep themselves busy with whatever exciting activity they can fill up their idle hours with.  What's more, it is also possible for kids to have fun and make profit at the same time.  There are plenty of ways that children can make money over the summertime, and it can be quite educational for them, too, as it would teach them about responsibility, and managing their time and money wisely.
A good old-fashioned lemonade stand can be an especially popular and profitable enterprise during the hot summer months.  If your kids happen to have a knack for baking, they could sell homemade cookies and pastries, as well.  Putting up a garage sale is also a good way to get your kids to get rid of some of the junk cluttering up their room and actually make some money out of them.
If your child loves animals, a pet care service is the perfect summer job for him, as well as a particularly lucrative business to engage in during the summer.  Since this is the season when most families go out on a holiday, there will be a need for people to take care of the pet animals that would be left behind while they are out taking their vacation.  The tasks involved in this job would include grooming the pet, looking after their care and feeding, playing with them, and of course, taking them out for a walk.
Another typical summer job for kids to try out is putting up a mini car wash.  This particular job can be hard work, but it can be fun in its own way, especially if one has a group of friends to help them wash cars.  All the materials that would be needed are a bucket, water, car soap, a sponge, a window cleaner, and some old towels.  On the opposite end, if your kid isn't too keen on washing up, maybe he would prefer to get his hands dirty doing some yard work.  Gardening can be a fascinating hobby for kids to pick up, and so much the better if they can earn money from watering plants and pulling weeds.
If your kid happens to have a particular talent or skill, he may be interested in making money by sharing his knowledge to others.  He could offer to tutor younger kids on certain subjects he happens to be good at, be it science, mathematics or reading.  If your child is an athlete, he could try coaching sports such as basketball.  If he is artistically-inclined, he could teach arts and crafts.  Or, if he's a talented musician, he could give lessons on singing or playing an instrument.  In a way, this (and for that matter, all the other summer moneymaking ideas) is a great way of preparing kids for the future, as they'd already have experience in putting their gifts to marketable use early on in life.