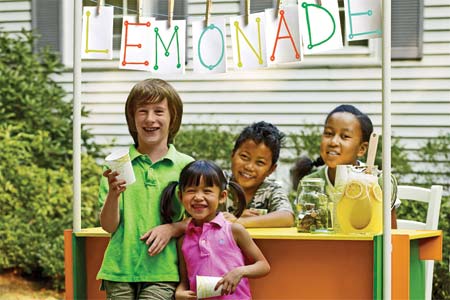 Summer has always been a season of fun for children.  School may be out, but kids will keep themselves busy with whatever exciting activity they can fill up their idle hours with.  What's more, it is also possible for kids to have fun and make profit at the same time.  There are plenty of ways that children can make money over the summertime, and it can be quite educational for them, too, as it would teach them about responsibility, and managing their time and money wisely.
Setup Your Financial Goals in Three Easy Steps
Here are three simple steps that can help you establish financial objectives:
8:30am  Monday  12 March 2012
Last Friday, we – a group of fund managers from Manila, Hong Kong and Singapore – spent the day being toured around the Carmen Copper Mine of Atlas Consolidated Mining Corporation (AT) in an observation trip sponsored by MacQuarie Philippines.  When I first started to look for work in the mid-70′s, Atlas Consolidated was one of the more desirable companies to work for.  It was consistently within the top 5 corporations of the Philippines and was the owner of reputedly the third largest copper minee in the world, the largest in Asia.
6:43 pm Friday 2 March 2012
With Philippine stocks rallying strongly, some of us may be quite skeptical in adding positions to issues that have gone up substantially.  What normally follows a large cap rally as we have seen is a rotation to mid-cap and small-cap shares – the so called second and third liners.  Here is something to chew on over the weekend.  This is a research note I received from my favorite stockbroker which I would like to share for whatever it is worth.
The analyst says:
"We believe that OV is currently undervalued. We see that the success of drilling and operations in Galoc Phase 2, Nido 1X1, as well as West Linapacan should support medium to long-term growth.  We initiate coverage with an OVERWEIGHT rating and a target price of P0.081 per share.  This presents a 65% upside to its current share price.  The target price is based on blended values computed using DCF, relative valuation, and the dividend discount model."
"Developments in the upstream oil industry should bode well for participants."
"While a small player in the global oil spectrum, the Philippines, with estimated total resources of 3,628 million barrels of oil, provides incentives for investments into the industry. Currently, there are only 28 existing petroleum (i.e. both oil and natural gas) service contracts in the country and we expect this to increase in the next decade, given that petroleum is still a basic necessity. The government has been actively encouraging investments and participation through initiatives such as the Philippine Energy Contracting Rounds which showcase contracts that would be up for bidding.
"Benefiting from higher oil prices moving forward."
"Higher oil prices translate to higher top-line.  The upward trajectory of oil prices bodes well for revenue growth.  After looking at OV's financials, we believe that the company also has relatively strong cost management in place.  We foresee a healthy growth in bottom line moving forward.  However, note that there exist downside risk if the assumption of elevated oil prices will be unrealized.   Actual future prices may vary from our estimates."
These are the salient points of a research report sent to me just this morning.  According to the analyst that wrote it, much of her impressions were formed by verifying company information with available data from the Philippine Department of energy.  With oil prices skyrocketing, the economics of oil is shifting such that accessible oil fields would be promising better profitability.  As an old doughnut advertisement used to say – "it's worth the trip."
Summer is usually the season for taking a break.  But between planning for holiday activities and keeping yourself cool in the warm climate, it is also a season in which you are forced to spend so much money.  Fortunately, there are steps that you can take to save money while making your summer vacation worthwhile.
Top 10 Tips to Successful Investing!
Here's 10 quick tips to get you started on investing and creating your winning porfolio!
ANNOUNCEMENT: We have been getting queries regarding valuation changes (if any) considering the PSEi's trading times have been extended to 3:30pm.
Given that PIFA requires mutual funds to submit their NAVPS by end-day, and that trading closes at 3:30pm, that leaves our company with a very slim margin of time to accurately compute our end-day prices especially for SALEF and SALBF. Please see our resolution below! Thanks!
Dear all,
Please note that we shall be adopting the following effective January 12, 2012:
1. The daily NAVPS will be computed based on the closing prices of stocks, i.e., at 3:30pm.
2. For publication purposes, we will publish the previous day's NAVPS.
3. Subscriptions and redemptions (as of 12:00 noon cut-off) shall be based on the NAVPS computed using the 3:30pm closing prices of equities. For information and necessary action please.
Thank you!
4:30pm Tuesday 22 November 2011
Philippine stock investors should be pleased with today's market behavior.  New York was down 248.85 points or 2.11 percent, but PSEi had gone down only 9.72 points today or a mere 0.23 percent. Nevertheless, at one point in the trading day the index tanked 39 points which makes the recovery at the close more dramatic.  Indeed local stocks have displayed not just resiliency but buoyancy as well.
Some stocks are just unsinkable; EDC, MPI, JFC, MER, SM, PX, MWC, SMC, AP, GLO SMDC, FGEN – these were all up today.  What is going on?  Why are we not getting beaten up like the developed markets?  Looking at the region, the KOSPI, Bangkok, Jakarta and Mumbai are also bucking the trend in the U.S. and Europe.  I guess there is till a lot of money sloshing around the world, and they are not in a hurry to go back to developed markets.  Ironically, trickles of cash have been finding their way to smaller markets such as the Philippines. Read more
7:55 pm  Thursday  10 Novemebr 2011
Philippine stocks were down today, but looking back as far as Thursday last week when the local stock index closed at 4210.25, I do not think that we are in bad shape.  We could be trading in a range between 4210 and 4350 which is not so bad.  The DJIA seems to be trading in a range between 11800 and 12200.  Both indices are in a short term range of around 3.3%.  What appears interesting to me is that in both markets, investors look to be bottom fishing whenever bad news come out of Europe.  I think many are focusing their buy strategies on bottom up strategies, i.e. looking at fundamentals of individual stocks rather than the broad market.  This is but likely because 75% of companies in the S&P 500 reported results which were better than expected.  Furthermore, while the U.S. economy is not roaring ahead, it is not at all slipping but merely chugging along.  The latest 3Q-2011 GDP growth estimate was 2.5% – not very strong, but not so weak either.
Read more
8:50am  Thursday  3 November 2011
Let us put things in perspective.  The DJIA fell 276 points ending below 12,000 on the last day of the month in a very rough month's close.  Nevertheless, U.S. stocks ended its best month in a decade with an almost uninterrupted four-week rally as Europe appeared to have finally found a way out of its debt crisis.  The DJIA and S&P 500 closed at their lows of the year on Oct. 3 after a bloody summer with the market tanking 20 percent from its most recent peak.  October saw extreme volatility and despite the dismal Month-end, it was exceptional month for Wall Street with DJIA up 1,041 points, or 9.54 percent –  the largest monthly points gain in DJIA history.  With the largest monthly percentage gain since October 2002, the index ended a five-month losing streak and is up 3.3 percent.  Similarly, the S&P 500  rose 10.8 percent for the month, the best since December 1991.  Stronger corporate earnings from the likes Google, Caterpillar, Qualcomm, and McDonald's and  favorable economic indicators such retail sales rose 1.1 percent in September, the biggest gain in seven months. Read more