8:26 am  Thursday  29 March 2012
For most investors that allocated part or all of their portfolio in equities or equity funds, the first quarter of 2012 has been very lucrative.  I have been advocating since 2009 that people have some of their idle funds allocated to the equity market either by directly choosing some stocks they like and trading on-line or investing in a mutual fund – a pure equity fund or a balanced fund.  Last year – 2011 – was not so profitable for equities as it was for long term bonds, nevertheless SALEF returned 8.18% for the year while SALBAF returned 6.23%.  These returns are moderately superior to traditional money market placements or bank deposits.  While there is timing risk or volatility of net asset values, such risks are mitigated by the active management by portfolio managers who are among the best in the field.
In the short run, I believe we could see more consolidation going on in the global equities markets, and our own PSEi will be surely influenced.  Note that for the first quarter of 2012, the large cap stocks or what we call blue chips have been leading the market to these record highs.   Rightly so, and this is due to the desire of large portfolios to simply gain exposure to the Philippine market.  I believe that after this consolidation that we are seeing, fund managers will return to the large caps as they align their values with the rest of the market.
What does this consolidation imply?
First of all, in a bullish market, professional investors do not want to be under-invested.  The logic is that cash does not earn anything, and even if you keep it in a call deposit account, the yield would only be 1.75% per annum – a return that you can easily ignore.  The possibility that other investors are looking for cheap stocks to get into raises the possibility of good value but ignored stocks to attract attention.  If these stocks really present sound earnings potential, a number of like minded investors would be able to put a good amount of money in them.
Similarly, there would be stocks which the large portfolios would be selling down because they simply would like to lower allocation to a sector or even just the particular stock.  The important thing about a stock that looks badly battered is first to find out if the fundamentals remain the same before buying it.  A lot of unseasoned stock traders buy stocks that have fallen in price only to see it fall even more simply because the fundamentals have gone sour.
Anyway, on a broad market basis, I think Philippine stocks are still in good shape.
At first, one would think that it's very easy to distinguish what a person needs from what he wants.  A need is something that is necessary for a person's survival, while a want is merely what a person desires to have.  It sounds so simple, but that is not always the case.  Sometimes, the line between a need and a want can appear to be so blurred that some people may find it difficult to differentiate one from the other.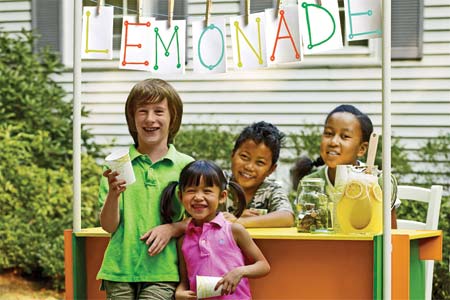 Summer has always been a season of fun for children.  School may be out, but kids will keep themselves busy with whatever exciting activity they can fill up their idle hours with.  What's more, it is also possible for kids to have fun and make profit at the same time.  There are plenty of ways that children can make money over the summertime, and it can be quite educational for them, too, as it would teach them about responsibility, and managing their time and money wisely.
Setup Your Financial Goals in Three Easy Steps
Here are three simple steps that can help you establish financial objectives:
8:30am  Monday  12 March 2012
Last Friday, we – a group of fund managers from Manila, Hong Kong and Singapore – spent the day being toured around the Carmen Copper Mine of Atlas Consolidated Mining Corporation (AT) in an observation trip sponsored by MacQuarie Philippines.  When I first started to look for work in the mid-70′s, Atlas Consolidated was one of the more desirable companies to work for.  It was consistently within the top 5 corporations of the Philippines and was the owner of reputedly the third largest copper minee in the world, the largest in Asia.
8:30am Thursday 8 March 2012
The decline in Philippine stocks yesterday was not as violent as the drop the previous day. I think saner emotions have prevailed. While I do not discount further possible declines, I am not one to hastily conclude that the rally in the PSEi has ended. I think that we are in a very healthy consolidation phase.
8:30 am  Wednesday  7 March 2012
While waiting for my flight to Cebu today, I will pass the time sharing a few thoughts.  Yesterday, Tuesday, the PSE officials thought that since the PSEi had clearly broken through the 5,000 barrier, it would be a good gesture to have the president of the republic to ring the opening bell.  Good idea, bad result.  The index tanked close to 90 points in the next 2 hours.  It doesn't reflect well about what stock market players thinks about the president's market outlook. In all fairness to the president, I do not think it was his fault.
9;00am  Monday  5 March 2012
On some days, it is just very difficult to get started on writing out my thought on the Philippine stock market.  It even gets more difficult when stocks have rallied so much on a broad front.  We are seeing index stocks up around an average of 15 percent since the beginning of the year.  Much of the second and third line stocks have also moved significantly, particularly those in mining.  Recently, oil stocks have started to move and prospects are just about as bright as mining and while the risk reward ratios are huge, getting in early in the game could minimize risk exposure.  It is times like that I appreciate comments and questions coming from readers.  These comments help give me ideas.  In fact, that is what is wonderful about the market – it is the confluence of a multitude of ideas.  The brightest ideas are not always those that make money.  Sometimes, it is the inane that dominates.
6:43 pm Friday 2 March 2012
With Philippine stocks rallying strongly, some of us may be quite skeptical in adding positions to issues that have gone up substantially.  What normally follows a large cap rally as we have seen is a rotation to mid-cap and small-cap shares – the so called second and third liners.  Here is something to chew on over the weekend.  This is a research note I received from my favorite stockbroker which I would like to share for whatever it is worth.
The analyst says:
"We believe that OV is currently undervalued. We see that the success of drilling and operations in Galoc Phase 2, Nido 1X1, as well as West Linapacan should support medium to long-term growth.  We initiate coverage with an OVERWEIGHT rating and a target price of P0.081 per share.  This presents a 65% upside to its current share price.  The target price is based on blended values computed using DCF, relative valuation, and the dividend discount model."
"Developments in the upstream oil industry should bode well for participants."
"While a small player in the global oil spectrum, the Philippines, with estimated total resources of 3,628 million barrels of oil, provides incentives for investments into the industry. Currently, there are only 28 existing petroleum (i.e. both oil and natural gas) service contracts in the country and we expect this to increase in the next decade, given that petroleum is still a basic necessity. The government has been actively encouraging investments and participation through initiatives such as the Philippine Energy Contracting Rounds which showcase contracts that would be up for bidding.
"Benefiting from higher oil prices moving forward."
"Higher oil prices translate to higher top-line.  The upward trajectory of oil prices bodes well for revenue growth.  After looking at OV's financials, we believe that the company also has relatively strong cost management in place.  We foresee a healthy growth in bottom line moving forward.  However, note that there exist downside risk if the assumption of elevated oil prices will be unrealized.   Actual future prices may vary from our estimates."
These are the salient points of a research report sent to me just this morning.  According to the analyst that wrote it, much of her impressions were formed by verifying company information with available data from the Philippine Department of energy.  With oil prices skyrocketing, the economics of oil is shifting such that accessible oil fields would be promising better profitability.  As an old doughnut advertisement used to say – "it's worth the trip."
The strength of the stock market with a 77 point rise in the PSEi and net foreign buying of close to Php 1 billion on Wednesday simply reflects perhaps a sustainable bullishness of equity investors who focus on Philippine stocks. Stocks had retreated from record highs on 23 February but with less than a 200 point correction. What we ought to see in yesterday's strong surge is a greater commitment of funds by investors of all sizes and shapes. My initial reaction to yesterday's strong close was that it was month end window dressing. However, with very strong net foreign buying, I have to conclude that foreign investors are adding to asset allocation in Philippine stocks which is a very favorable sign.